Featured article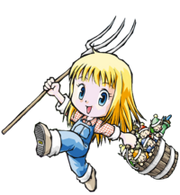 Claire
She's an average girl from the big city, living alone and was bored with her ordinary life, often daydreaming of a more exciting one. While looking through her newspaper, she found an ad about a "peaceful and refreshing farm life" which sparked her interest instantly.
Having quit her job and moved out of her apartment, she headed to her new property with high hopes. Once she arrives though, she is furious to find the land she bought looks nothing like the ad had claimed.
Info

Developer
Marvelous Interactive
Publisher
Natsume
Released
Japan December 12, 2003
America July 26, 2005
Modes
Single Player
Platforms
Game Boy Advance
Ratings
E (Everyone)
Genre
Simulation
Media
Game Boy Advance Cartridge
Gameplay
The main goals of the game are simple:
---> Upgrade the farm and make money by raising animals, collecting wild plants, fishing, mining, and collecting resources. Your farm degree can be increased by meeting certain goals.
---> Find a guy to court by interacting with him, giving him gifts, participating in "heart events" and in romantic festivals. Propose to him using the Blue Feather, and eventually have a child.
---> Interact with the people in town to strengthen your relationships with villagers. You can also connect to Another Wonderful Life (on the Gamecube) to interact with additional villagers.
---> Collect points towards your farming degree.
Helping out
Want to help out Harvest Moon More friend of Mineral Town Wiki?
Before you start...

Adding some content...

Working on projects...
Community content is available under
CC-BY-SA
unless otherwise noted.